SIQ
Opening of a new chamber for electromagnetic compatibility (EMC) testing in the automotive industry
08. June 2023
Yesterday we held the ceremonial opening of a new EMC chamber for automotive testing. The investment in the new EMC chamber for testing automotive components also includes an investment in technologically state-of-the-art equipment, fully adapted for testing electronic components used in e-mobility. The SIQ laboratory area is thus larger by 150 m2 of the high-tech Laboratory for EMC worth EUR 2 million.
The investment in high-tech capabilities, ensuring global competitiveness to Slovenian industry, will enable "Slovenian manufacturers to certify products or services with the greatest added value", emphasized the Minister of Economy, Tourism and Sport Matjaž Han, adding that Slovenian companies, including those in the automotive industry, "have a real advantage in the field of certification with the internationally renowned SIQ." Gregor Schoss, Managing Director of SIQ Ljubljana, stressed that SIQ provides important support to the Slovenian economy, especially to exporters, while at the same time, "it provides high-quality, fast and efficient services for many foreign clients."
With more than fifty years of experience in the field of electromagnetic compatibility (EMC) testing, we are an important partner to the entire automotive and e-mobility industry. EMC and related safety are a major challenge in the integration of electronic components as new products are developed in the field of e-mobility. "With the new chamber and new testing facilities, SIQ will support the transition to e-mobility and continue to ensure the high quality of electrical products, thus contributing to the development of advanced technologies in the automotive industry. After all, product quality is one of the key factors affecting competitiveness and consumer trust," said Mitja Gorenšček, Executive Director of the Chamber of Commerce of Slovenia and President of the SIQ Council.
We test automotive components to the requirements of all leading manufacturers, such as Mercedes, BMW, Audi, VW, Renault, Porsche, Rimac, Aston Martin and others, and support the automotive industry in our region thanks to our wide range of equipment. Automotive manufacturers are continuously raising their requirements for compliance of components, which to a large extent leads to additional investments in measuring equipment, which in turn leads to the introduction of new test methods.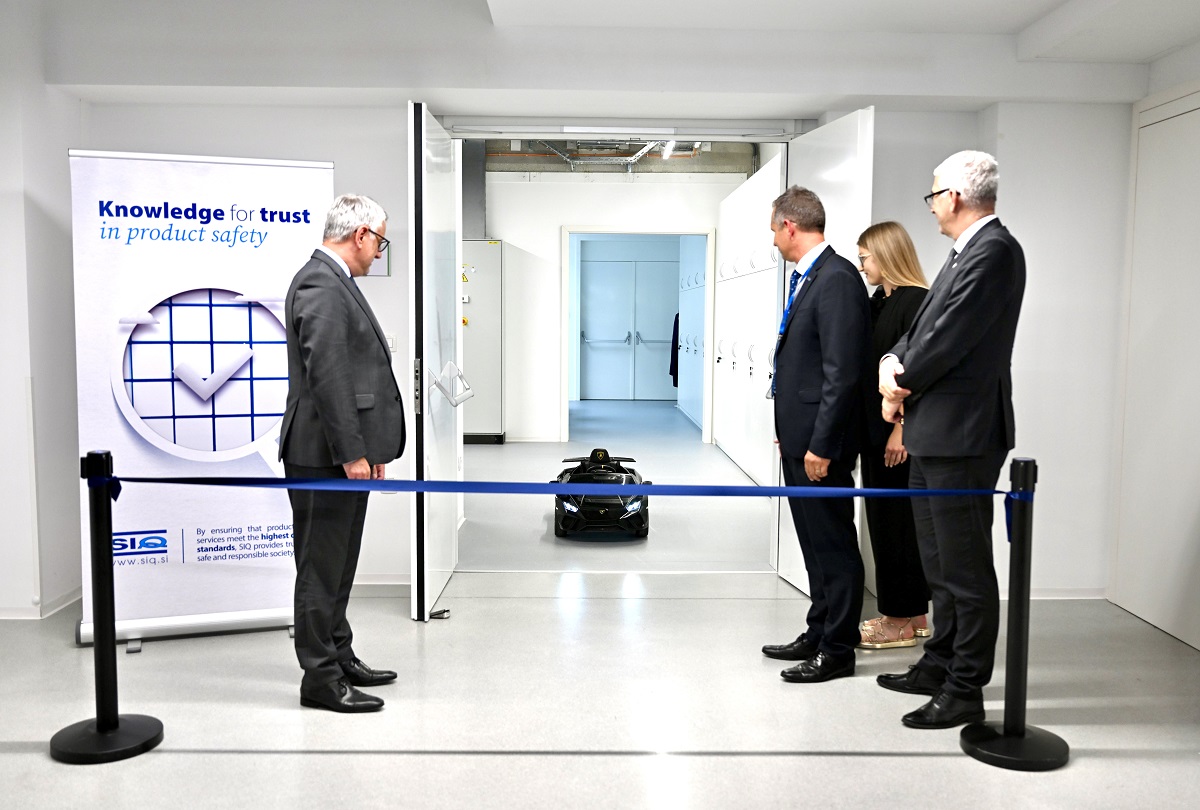 The new EMC semi-anechoic chamber for radiated emission measurements in the frequency range from 9 kHz to 6 GHz and electromagnetic field immunity testing in the frequency range from 200 MHz to 6 GHz is equipped with amplifiers to achieve an electromagnetic field strength of up to 200 V/m. It also complies with the requirements for electromagnetic compatibility testing of military components and civil aviation. The laboratory is richer for associated antennas and a state-of-the-art spectral receiver for measurements up to 44 GHz, as well as a new room for electrical tests on automotive components. With the new environmental chamber, test specimens can also be exposed to extreme temperature conditions.
Back to all news