Product Testing and Certification
IEC 62368-1 4th edition published
04. July 2023
Edition 4 of IEC 62368-1:2023 was published on May 26, 2023.
At the moment, it is still not known what the outcome of the HAS consultant assessment in the EU will be. Due to the huge backlog of projects, the date of the HAS assessment is not defined. For the time being, EN 62368-1 is the only valid harmonized standard under the LVD directive for ITAV products.
We expect that in approximately one year the U.S./CAN will also adopt this IEC edition and publish UL/CSA 62368-1 4th Ed. It is also expected that other countries like Australia, Japan, and Korea will adopt this edition within 1 year.
More information about published standards can be found on the IEC website:
https://webstore.iec.ch/publication/69308
More information:
Boštjan Glavič
E-mail: bostjan.glavic@siq.si
Tel.: +386 1 4778 265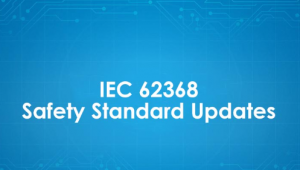 Back to all news