Calibration of test equipment at SIQ
Temperature and climate chambers
Calibrations of temperature and climate chambers are performed in the customer's premises. We calibrate the following parameters:
Temperature: The temperature is measured using measuring system with nine probes arranged throughout the chamber. The calibration of each temperature requires at least 4 hours due to temperature stabilization. Therefore, the total calibration time can last several days if multiple temperatures need to be calibrated. Accredited calibrations are performed in the temperature range from –70 °C to +180 °C. Several sets of measurements in different measuring system arrangements are required for chambers larger than 2 m3.
Relative humidity: Six humidity meters are placed in the chamber. Each measurement of relative humidity lasts at least 4 hours. However, both relative humidity and temperature can be calibrated at the same time.
Temperature gradient measurement: The key parameter for certain chambers is the temperature gradient, i.e., the information how the temperature changes in a certain time. This parameter can be also calibrated non‑accredited using the measured temperature and time.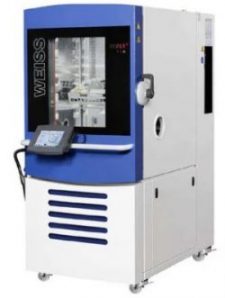 RTD displays/RTD simulators
RTD displays measure the resistance of the sensor at the input terminals and indicate the temperature of the sensor according to calculation. On contrary, the RTD simulators generate a certain resistance at the output terminals according to temperature settings. Both types of instruments are calibrated using reference resistance decades or by measuring the resistance (three-wire or four-wire connection). We also check the internal reference of the calibrated instrument, if available. Similarly, we also perform calibrations of displays and simulators based on Pt100/Pt1000 sensors, by measuring of generation of resistance and recalculation according to SIST EN 60751 and SIST EN 60751 standards.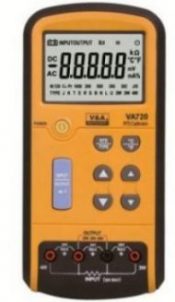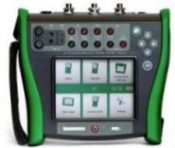 Temperature meters/temperature calibrators for thermocouples
Temperature meters for thermocouples measure DC voltage at the input terminals and after the calculation give the temperature for a certain thermocouple type. On the other hand, temperature calibrators generate DC voltage at the output terminals according to set temperature and thermocouple type. Accredited calibration for both types of measuring instruments for thermocouples type B, E, J, K, N, R, S, T, C, A, U is performed indirectly by measuring or by generating DC voltage and recalculation according to IEC 584-1 standard. We can also calibrate data loggers which can have several channels/modules available for different types of thermocouples. The scope of calibration is usually defined according to customer's needs. We can also provide accredited calibrations of temperature probes and humidity meters by cooperation with our external partners.